Endless Love
Channel: tv3
Airing: Monday - Thursday
Time: 3-4pm
Total episode: 47
begin: 9/4/2012
ending :13/6/2012
Korang tentu ingat lagi kan drama Korea Autumn in My Heart kan...lakonan song hye gyo,won bin dan song seung hun.Tapi yang nie,Philipines remake...Philipines remake always successful even they only copy from the original story. yang ini pun lakonan marian rivera(marimar). Jalan cerita tentu masih ingat lagi kan,yang adik beradik bercinta selepas terpisah sejak kecil akibat kemalangan.
Sinopsis
Lead characters Johnny (Dingdong Dantes) and Jenny (Marian Rivera) are siblings from a well-off family. They are sheltered and are genuinely loved by their parents Robert (Tirso Cruz III) and Katherine (Sandy Andolong). Johnny loves his sister and is very protective of Jenny, who loves her brother as much.
The perfect and happy lives of Johnny and Jenny turn topsy-turvy when an accident leads their family to discover an incident from the past. The family learns there was a case of baby switching in the hospital the day Jenny was born. They discover that Robert and Katherine's real daughter is Shirley, the poor, mean and resentful classmate of Jenny.
The lives of Jenny and Shirley are dramatically reversed in an instant. Jenny wants to stay but Shirley keeps pushing her to leave the family she loves so much. Hurting, the weak-willed Jenny decides to run away. Even when Johnny and his family invite Jenny to live with them abroad, Jenny opts to stay with her hostile biological mother Suzy (Janice de Belen) and good-for-nothing brother Jojo (Gabby Eigenmann).
Jenny grows up to be a simple, beautiful and kind-hearted young lady. She works in a hotel resort as a housekeeping staff where she meets Andrew (Dennis Trillo), the conceited and naughty son of the hotel owner gets smitten by Jenny's charm and beauty.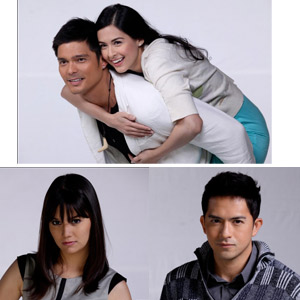 Andrew does everything to get Jenny's attention. He soon realizes that Jenny is slowly changing him. The former inconsiderate wealthy guy proudly shares to his bestfriend that he has found the woman he truly loves.
Conflict arises when Johnny returns from abroad to search for his beloved sister Jenny. Soon, the two long lost siblings reunite. Will Johnny and Jenny finally admit that the love they feel for each other is more than just familial love?
But what will these ill-fated lovers do when reality unfurls – that Johnny is the bestfriend of Andrew, who is head over heels in love with Jenny. And although he will fight for the love of his life, Johnny is engaged to his girlfriend Yumi (Bela Padilla). Andrew, on the other hand, is being pursued by Jenny's archrival, Shirley.
What will happen to the intertwined loves and lives of Johnny, Jenny and Andrew? Who will be the best man to win the heart of Jenny? And what is this secret that Jenny has been keeping from the people who love her?
Finale episode
theme song: Ikaw lang by Rachelle Ann Go
they are dating now
endless love actor and actress